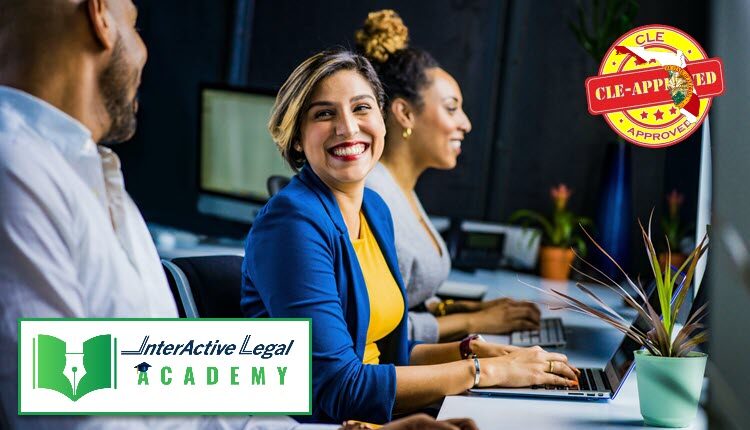 InterActive Legal Academy
Welcome to InterActive Legal Academy – a platform for learning from experienced attorneys about estate planning, drafting estate planning documents, and transfer taxation.
We offer two different multi-week series of courses, "Estate Planning Tax Series," focused on estate, gift, and generation-skipping transfer tax planning, and "Estate Planning Basics Series" focused on the basics of estate planning. The Estate Planning Basics Series will be presented in May 2023. The Estate Planning Tax Series will be presented in October 2023.
For more information on each series, and to register, select one of the following options, below:
REGISTRATION IS OPEN
for the Fall 2023
Estate Planning Tax Series.
Registration for the Spring 2024 Estate Planning Basics Series is not yet available.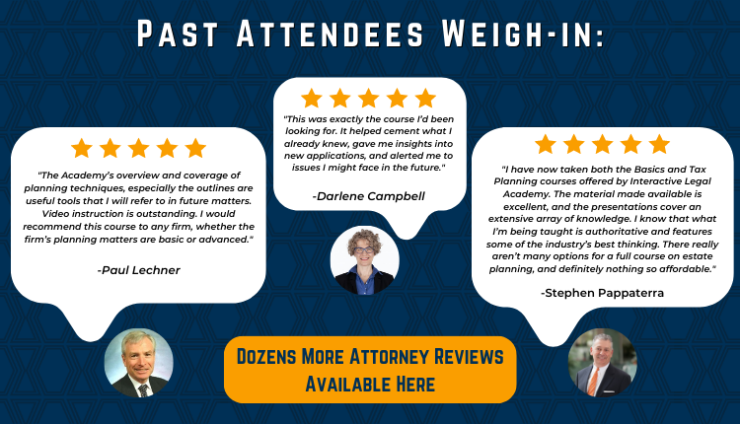 Each series includes twelve hours of instruction over a four-week period, presented by a faculty with decades of varied estate planning experience.
During each week of the program, attendees will participate in substantive sessions on Tuesday and Thursday, followed by a special workshop session on Friday to review what was learned during the week, show examples of drafting documents using those concepts, and answer any questions presented.
Recordings of each session and workshop will be available to registrants in the InterActive Legal Academy portal on the ILS website, behind the registrant's login credentials. Recordings of each session or workshop will be available after the air date of that session or workshop, and will remain available for 30 days following the final workshop of the series. Handouts from all instruction sessions and workshops will also be available for 30 days following the final workshop of the series. Additionally, recordings will be available from the GoToWebinar Virtual Event Page, which can be accessed at any time by registrants via the link in the confirmation email received after registering.
CLE credit, to the extent it is available, may be available only for sessions attended live, depending on state rules.
---
CLE Approved
The Fall 2022 Estate Planning Tax Series has been approved for 12.0 hours CLE credit by the State of Florida*
Accreditation status for the Estate Planning Basics Series will be announced in 2023.
---
For illustration purposes, the faculty will demonstrate document drafting using InterActive Legal, a document assembly system designed for estate planning and elder law attorneys.
InterActive Legal Academy attendees who are NOT already subscribers to InterActive Legal will be offered a discount if the subscription is purchased within 60 days after the final workshop of the series attended.
---
Want to Learn More about InterActive Legal?
See how InterActive Legal can help grow your practice and help you spend less time drafting and more time engaging with clients.

Estate Planning and Elder Law professionals turn to InterActive Legal as their main resource for the latest planning strategies. We provide the most comprehensive productivity system on the market with an easy-to-use document drafting system, extensive continuing education, thought-provoking discussion forums, and more.